How Long Does Waxing Last?
There are many reasons to turn to the best waxing Staten Island has for hair removal. Maybe you're tired of unwanted hair or do not feel like spending so much time shaving. Some go for a Brazilian waxing on Staten Island for a special occasion or right before vacation. No matter the reason for getting a wax, all customers have the same question: how long will it last?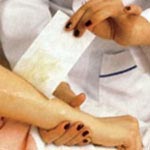 The answer to that question will vary. The average waxing lasts up to six weeks, but every person will see different results. Your hair growth cycle will determine how long the wax will last. Some people will see growth before the six-week mark.
The frequency in which you get waxed also affects how long it will last. Those frequently get waxing on Staten Island notice that hair removal lasts longer. Going two to four weeks between waxing removes the hair from the root. Frequent waxing often causes damage to the follicle, which can cause a reduction in growth. Often hair grows back finer or stops growing altogether.
Results for waxing vary with each individual. Your age and genetics also play a factor. The only way to know how long you'll need to go in between waxing is to see how your hair reacts after an initial waxing.
Waxing Staten Island
If you're in Staten Island and interested in waxing, give us a call!
Related Reading: