Try Brazilian Waxing and hair removal in staten island
Without a doubt, waxing is one of the best ways to remove unwanted hair from the body, and this is especially the case when thinking about a person's pubic region. Shaving this area is hard and frequently leads to razor burn and ingrown hairs. There are many benefits of Brazilian waxing that a person should consider.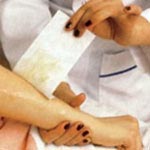 When compared to other forms of removing hair, Brazilian waxing leaves the skin smoothest. Wax removes hair from the root, which means skin will be clear. After waxing and exfoliating the skin, your pubic region could be considered the smoothest thing in your life.
Shaving requires a consistent schedule because after shaving hair grows back quickly. Brazilian waxing pulls hair from the root, so it takes a lot longer for hair to grow back. When compared to shaving, waxing can leave skin clearer for 2x to 3x as long.
Consistent waxing over a prolonged period can make hairs thinner and finer. When hair grows back from waxing, it will grow back softer, weaker, and sparser.
Waxing does cause some pain during the procedure, but it does leave patients with minimal irritation. Shaving and hair removal creams can damage and burn skin, but waxing done by a licensed professional will not cause those problems.
Waxing removes dead surface skin as it pulls out hair. In a way, waxing can be likened to a physical exfoliant. Going for a Brazilian wax is like going for hair removal and skin care in one session.
Permanent Hair Removal on Staten Island
Our professional estheticians can give you're the best Brazilian wax of your life. For more information on Brazilian waxing on Staten Island, you should make us your first call. We also do permanent hair removal on Staten Island.
Related Reading: